TMSP 2014 Dates:
Tuesday, July 22nd through Saturday, July 26th 2014
at Eden Valley Guest Ranch, Oroville, WA.
We are pleased to announce the above dates for TMSP 2014. In cooperation with Eden Valley, we will be opening on Tuesday - a day earlier than we did in 2013 - for those that want a longer Star Party experience.
Registration for TMSP 2014 will open May 1st, 2014
---
In Memorium: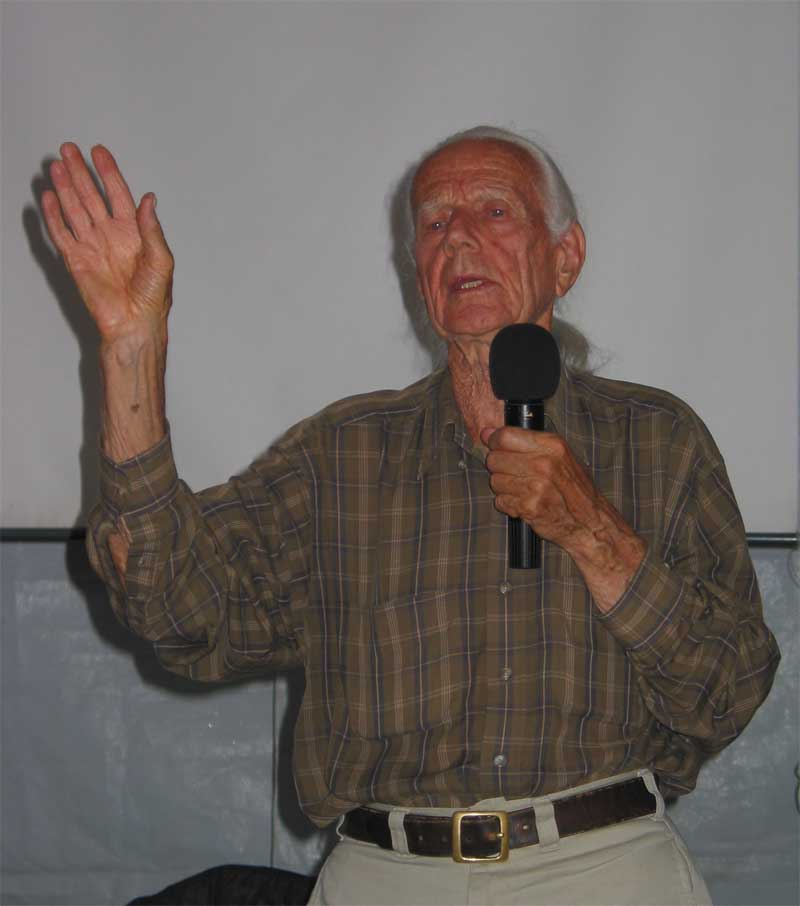 John Dobson
It is with great sadness and heavy hearts that we have to report the passing of Mr John L. Dobson. He died peacefully January 15th, 2014, in Burbank, California. He was 98. John leaves behind a son, many close friends, and legions of friends, fans, and admirers around the globe. ISAN 7 (International Sidewalk Astronomy Night) will be held in honor of John on March 8th. Amateur astronomers worldwide can join in and celebrate his life by carrying the torch that John lit back in 1968 when he co-founded the San Francisco Sidewalk Astronomers.
We at TMSP were fortunate to have Mr. Dobson as a Guest Speaker in 2007. John was a friend and mentor to all who met him. He will be dearly missed.
---
Status of Table Mountain
TMSPA continues to work with the Forest Service regarding the use of the Lion Rock / Table Mountain location for our event. Currently, the situation is that the Forest Service is still examining if they will be issuing Special Use Permits for the area in 2014 and beyond. There are many safety concerns with the site due to the burned trees in the area and the potential for them to fall, either just from the fire damage or in conjunction with wind and weather. The danger is such that the Forest Service has posted a sign on the Table Mountain Road regarding the danger of falling trees, warning that you "proceed at your own risk" in entering Forest Service lands.
Through conversations with our contacts in the Forest Service, the general opinion that has been reached is that if TMSPA were to be issued a Special Use Permit for 2014, that it would be severely restricted in terms of the area open for TMSPA to operate within as compared to years prior due to the potential danger of falling trees in areas typically used during the Table Mountain Star Party. One of our obligations as an organization is to take all due and reasonable precaution to protect our attendees while providing the best possible star party experience possible. Making use of a potentially dangerous location and being restricted even further in the number of attendees we can accommodate are not aligned with returning to Table Mountain in 2014.
As such, the TMSPA Directors have chosen to return to Eden Valley for TMSP 2014.
We will continue working with the Forest Service to determine when we will be able to return to our namesake site.
---
Thank You Eden Valley!!
We here at TMSPA would like to extend a special "Thank You!" to Eden Valley Guest Ranch owners Patrick and Robin Stice and their staff for hosting TMSP 2013. We couldn't be more pleased with the hospitailty and beautiful location there, and the dark skies made it worth the trip.
Eden Valley is open year-round, so if you are looking for an astronomical weekend getaway to a dark-sky location with amenities and other activities nearby, they would love to have you. You can contact Eden Valley through their website at edenvalleyranch.net
---
Okanogan Gazette-Tribune Article about TMSP at Eden Valley
Brent Baker, a writer for the Okanogan Gazette-Tribune paid TMSP 2013 a visit and has done a nice write-up about the event this year. Brent is a fellow amatuer astronomer who owns an 18" Obsession and is a previous TMSP attendee. The article is definitely worth a read! Thanks Brent!
---
Table Mountain Fire Article
The Seattle Times has an interesting blog post regarding the Table Mountain Fire and how it impacted use of the area by TMSPA. Of special note in the article are the comments from Ranger Judy Hallisey about the concerns of the Forest Service with use of the area. Also, the third photo down in the article shows the tree line at the south end of the telescope field adjacent to the pit toilet and how many areas burned.
While the area is open to public, the Forest Service is still reviewing their ability to issue Special Use Permits as required by events such as ours. TMSPA will continue working with the Forest Service on determining when we will be able to return to our beloved site.
---
TMSPA Weblog
Want to stay up-to-date with news and announcements about the Table Mountain Star Party? We have our own TMSPA Weblog service so that you can get those updates via RSS feed. We'll be posting announcements regarding registration, Speakers Programs and other TMSP news on the Weblog. Check it out and subscribe to the RSS feed and you'll always get the latest information.