2017 Guest Speakers
Cliff Mygatt

The 2017 Solar Eclipse

Cleaning Optics

Mark Simonson

Drawing Nebula

Observing Programs of The Astronomical League

Bob Scott

Urban Observing
Additional Guest Speakers will be added as they are confirmed.
---
Speaker announcements and schedules will be posted as they are confirmed. Check back to keep up to date. Some programs may change days and/or times. This page will be kept as current as possible. Schedule will be posted on-site at TMSP and in the Event Newsletter.
Each year TMSP has had a great lineup of speakers with a wide array of topics For a sampling of the past fare, see the list of last years speakers as well a prior years listings in the Histories Sections (History section under construction - coming soon. -Ed.)
Again, bring your own chairs if you want to be assured of a place to sit.
TMSP is always accepting papers and programs for presentation on the mountain. If you are interested in providing a talk contact the Speaker Chairman.


David Levy addresses the crowd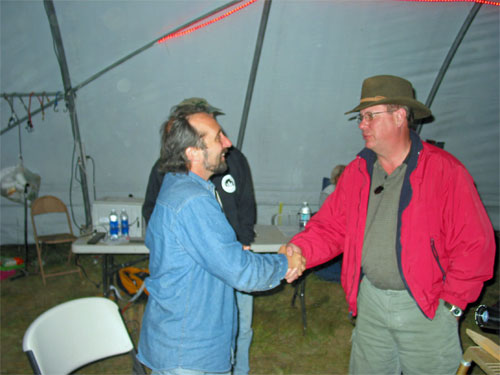 Steven James O'Meara & Joe Rottman