2012 Guest Speakers
Greg Arkos

Faculty Member, Department of Physics, Engineering and Astronomy
Vancouver Island University, Canada

Apocalyptic Prophecy and 2012: Fact or Fiction?

Several thousand years ago, an advanced Mesoamerican civilization utilized elaborate calendric systems. The Mayans' so-called "Long Count" calendar is due to complete its current cycle on Dec 21, 2012, leading to various claims of pending disaster for our planet. These include Earth-shattering collisions, unprecedented and deadly solar eruptions, and galactic alignments spawning destructive planetary tides. What can we actually expect in 2012? Are any of these claims justified? Does an ancient Mayan calendar truly predict the end of the world?

Tom Field

You Can Almost Touch the Stars!

Even if you wanted to touch a star, they're impossibly distant. But despite these great distances, researchers have learned a great deal about quite a few stars. How? The most common method used to study the stars is called spectroscopy, which is the art and science of analyzing the colorful rainbow spectrum produced by a prism-like device.

Until recently, spectroscopy was too expensive and too complicated for all but a handful of amateurs. Today, though, new tools make spectroscopy accessible to almost all of us. You no longer need a PhD, dark skies, long exposures, or enormous aperture! With your current telescope and FITS camera (or a simple web cam or even a DSLR without a telescope) you can now easily study the stars yourself. Wouldn't you like to detect the atmosphere on Neptune or the red shift of a quasar right from your own backyard?!

This talk, with lots of interesting examples, will show you what it's all about, help you understand how spectroscopy is used in research. And, it will show you how to get started.
---
Speaker announcements and schedule will be posted as they are confirmed. Check back to keep up to date. Some programs may change days and/or times. This page will be kept as current as possible. Schedule will be posted on-site at TMSP and in the Event Newsletter.
Each year TMSP has had a great lineup of speakers with a wide array of topics For a sampling of the past fare, see the list of last years speakers as well a prior years listings in the Histories Sections (History section under construction - coming soon. -Ed.)
Again, bring your own chairs if you want to be assured of a place to sit.
TMSP is always accepting papers and programs for presentation on the mountain. If you are interested in providing a talk contact the Speaker Chairman.


David Levy addresses the crowd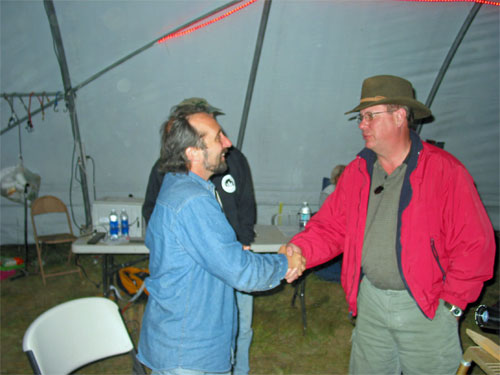 Steven James O'Meara & Joe Rottman